The symposium was a huge success, with outstanding participation from universities and research institutes around the world.
The movies of lectures (upon approval by the speaker) and discussions are available from Vimeo.
The AIBS symposium 2020 Slack workspace is available from here.
Special issue on Artificial Intelligence and Brain Science has been published.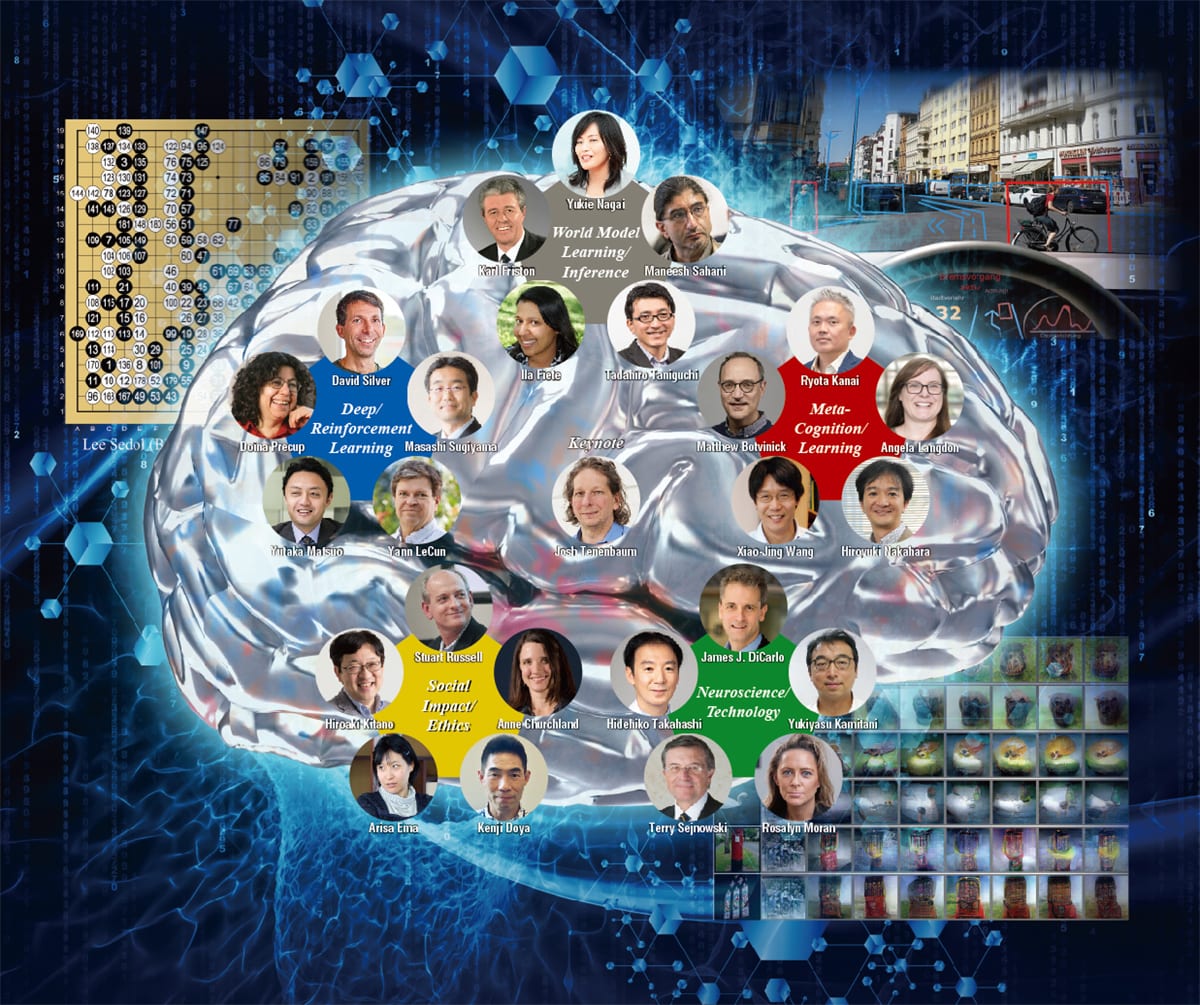 Recent advances in "deep learning" realized artificial intelligence (AI) that surpasses humans in certain tasks like visual object recognition and game playing. Today's AI, however, still lacks the versatility and flexibility of human intelligence, which motivates AI researchers to learn brain's working principles. Neuroscientists also need helps of AI in making sense of massive data from sequencing, imaging, and so forth. The aim of this symposium is to bring together researchers advancing the forefront of AI and neuroscience to identify next targets in creating brain-like intelligence and further advancing neuroscience.
Date:

Saturday 10th October to Monday 12th October 2020
Venue:
Ito Hall, The University of Tokyo
ONLINE
The method of online participation will be notified to registered participants.
Schedule:
September 30th: Registration has been closed
October 7th: Lecture movies available for registered participants
October 8th: Poster abstracts and files open, please click here
Co-organizers:
Kenji Doya (Okinawa Institute of Science and Technology)
Arisa Ema (The University of Tokyo Institute for Future Initiatives)
Karl Friston (University College London)
Takao Hensch (Harvard University / The University of Tokyo International Research Center for Neurointelligence)
Yutaka Matsuo (The University of Tokyo)
Masamichi Sakagami (Tamagawa University)
Tadahiro Taniguchi (Ritsumeikan University)
Masashi Sugiyama (RIKEN Center for Advanced Intelligence Project / The University of Tokyo International Research Center for Neurointelligence)
Josh Tenenbaum (Massachusetts Institute of Technology)
Sponsor:
KAKENHI Project on Artificial Intelligence and Brain Science
Co-sponsors:
RIKEN Center for Advanced Intelligence Project (AIP)
The University of Tokyo Institute for Future Initiatives(IFI)
The University of Tokyo International Research Center for Neurointelligence (IRCN)
Corporate sponsors: